In four shifts of two hours…
27 League members made 2000 calls to AFT members in Wayne county yesterday!

People that said they were voting yes for the millage = 269

What a great solidarity effort from the League of Extraordinary Educator members of AFT Michigan!
Unfortunately, the measure failed by a slim margin, indicating we must continue to take the fight for investment of education funding to Lansing.
Here is the first shift, 12 – 2 pm
(with folks also in many other offices in the building!)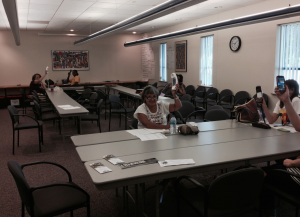 Here is the second shift, 2 – 4 pm
(with folks in a few other offices in the building!)
Barbara gets the most dedicated award for the day,
85 and drove 30 miles to support students and her fellow teachers,
what SOLIDARITY!!
Our fourth shift, getting late,!
Michelle making the 2000th call!!