February 22, 2021
Remembering Our History; Continuing the Struggle
As we honor Black History Month, we do not need to look far for trailblazers. Of the far too many we've lost to Covid-19, John Elliott holds a special place in the history of AFT Michigan and the Michigan labor movement. After rising through the ranks of the Detroit Federation of Teachers, John served as DFT president from 1981 – 2001. He was an outspoken, smart, determined advocate for students, school communities, and, of course, the women and men who he was so proud to represent. He led the union through contract negotiations, including strikes, was always in the center of the discussion concerning public education, and was a major player in the Democratic Party.
John held many positions, including AFT Vice President, Michigan AFL-CIO Secretary-Treasurer, Chair of the 14th District Democratic Party, member of the Michigan Employment Security Commission and many others. But the titles, as impressive as they are, fall far short in describing the man. John understood that leading the state's largest teachers' local went far beyond making sure those he represented were treated right, as important as that is. He understood that public education is the foundation of our democracy, that our schools provide hope and opportunity for so many, and accepted as his responsibility doing everything he could to protect and enhance public education. He was so active politically and in the community because he knew that dealing with workplace issues is just one part of a union leader's responsibilities.
As we enter the final week of Black History Month, I hope we are all invigorated to work for justice 365 days a year. I know John would be proud that the AFT Michigan Administrative Board has chosen two areas to focus our continuing fight against racism and discrimination this year:
Increasing the number of Black educators in Michigan schools, colleges, and universities, and
Dismantling the "school-to-prison pipeline" that prevents too many of our young people from reaching their full potential.
Look forward to policy proposals and other initiatives from us in the months ahead. As always, if you have ideas or suggestions, please let us know.
LEO Activist Named MDE Legislative Staffer
Sheryl Kennedy, formerly a K-12 educator and administrator and also an activist in the Lecturers' Employee Organization at U of M, who served in the state legislature through 2020, is the new legislative staffer for the Michigan Department of Education. 
Congratulations Sheryl. 
DFT Member Featured by Engage Michigan
As part of a series highlighting the work of Black Michiganders working for justice, Engage Michigan interviewed Detroit teacher Melanie Wiggins (see the tweet below). Great job and thank you, Melanie.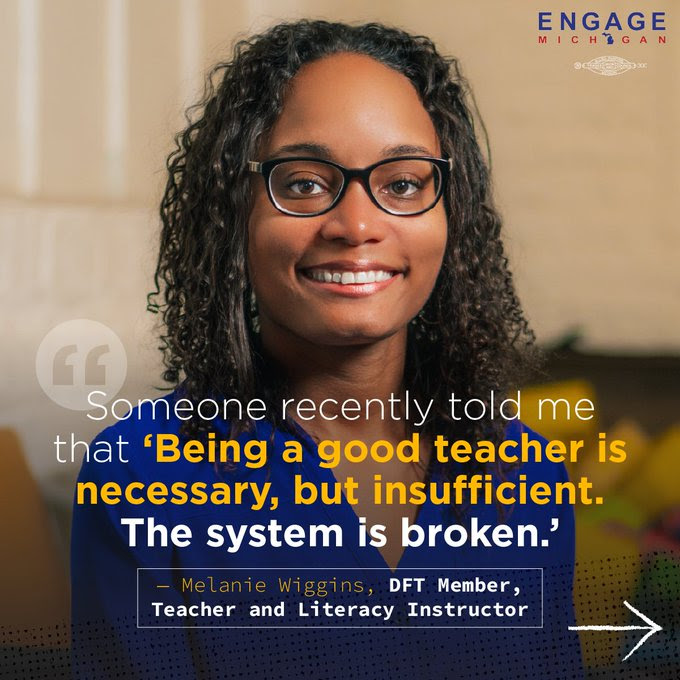 AFT Michigan Activists Elected to Michigan Democratic Party Seats
Five AFT Michigan members were elected to leadership positions at this past Saturday's Michigan Democratic Party Convention. These members were elected to represent their congressional district on the MDP State Central Committee that governs the Party between conventions. Elected from the 13th District are Detroit Teachers President Terrence Martin as a delegate and our Legislative and Political Coordinator Jenell Mansfield as an alternate. Detroit Teachers Robin Ward-Jennings was elected as delegate from the 14th District, while Eric Rader, Vice-President of the Henry Ford Community College Federation of Teachers won an alternate seat in the 9th District. I was elected a delegate from the 9th District. Congratulations to all.
AFT Tele-Townhall – Tuesday, Feb 23
As we continue celebrating Black History Month, AFT will be holding a telephone town hall tomorrow, Feb. 23, at 6:45 p.m. EST, to discuss how advancing a progressive agenda for our schools and communities requires a commitment to dismantling the systemic and institutional barriers of racism and white supremacy that have continued to disproportionately affect communities of color. Joining the tele-townhall will be Dr. John Jackson, President of the Schott Foundation for Public Education, Louisiana Federation of Teachers President Larry Carter, NYSUT member and UN Working Group of Experts on People of African Descent Chair Dominique Day and others.
Upcoming Professional Development
May I Have This Dance Trauma PreK-14
AFT Michigan – Virtual Workshop
March 6, 2021, 8:30 a.m. -4:00 p.m.
This workshop will provide participants with a trove of ideas, strategies, and information about trauma, as well as enhancing one's leverage to make positive transformational changes in and outside the classroom to support students' achievement.
AFT Professional Learning: Share My Lesson Virtual Conference
Registration is now open for AFT Share My Lesson's ninth annual Virtual Conference on March 23-25!
This three-day virtual conference features more than 40 free, for-credit webinars on issues that are top of mind for supporting students, including learning recovery, social and emotional recovery, civic engagement, cross-curricular instructional strategies and trauma sensitive practices. Last year, we had more than 70,000 registrations. So don't delay! Get these sessions on your calendar now: ShareMyLesson.com/vc2021.
In solidarity,
David Hecker, President